If you have an email newsletter, you know what a challenge it can be to build your list and get more subscribers.
One of the best ways to build your list is to use a plugin to build high-converting opt-in forms on your WordPress website.
MailChimp for WordPress is a very popular free plugin that's highly rated by its users. It gives you a way to quickly create simple opt-in forms and place them in your posts and pages with shortcodes.
How to Setup Your MailChimp Newsletter in WordPress
After installing and activating the plugin, you'll be prompted to enter your MailChimp API key. This will allow the plugin access to your MailChimp lists.

Click the link to go to the general settings page. Then click the link that says Get your API key here, and log in to your MailChimp account.
Scroll down a bit to see your API key.

Copy the key and paste it into the API key field back in your WordPress dashboard (in the MailChimp for WP » MailChimp page). Then click the Save Changes button.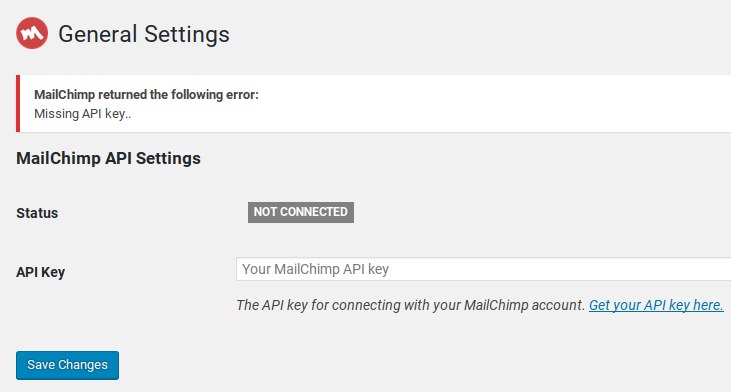 It should then say "Status: Connected."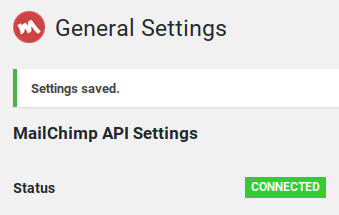 Now you can navigate to MailChimp for WP » Forms to create your form.
Name your form and you can start building it by choosing your form fields.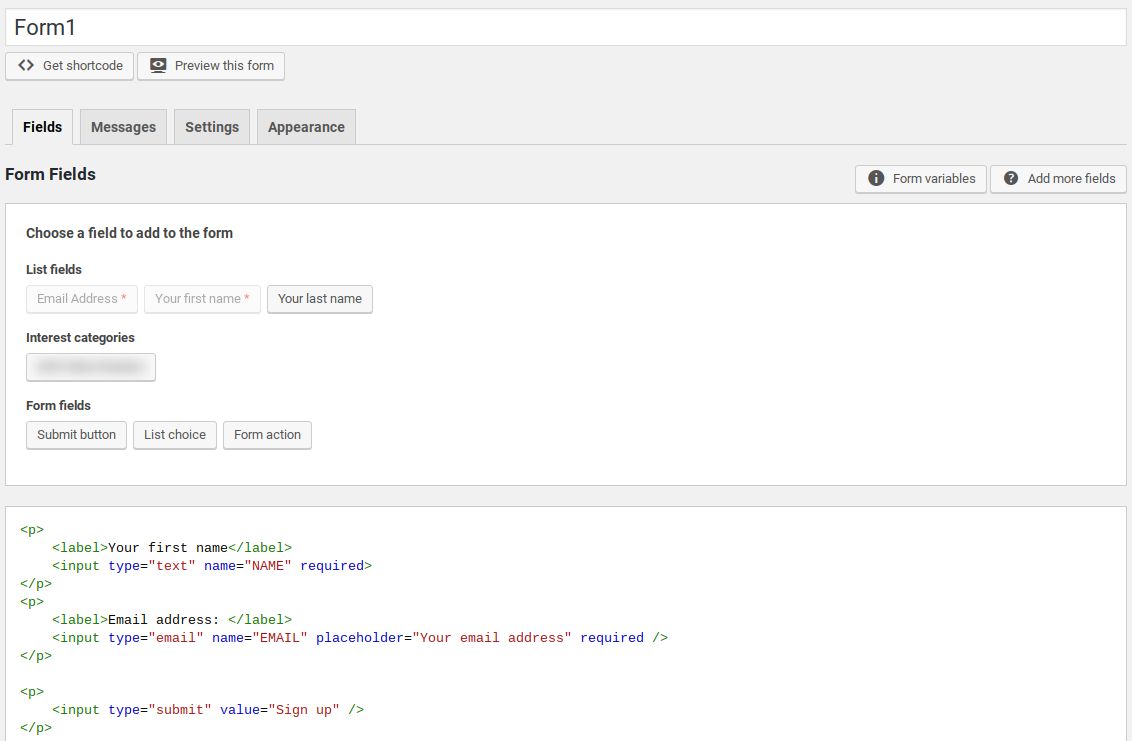 By default, your form only asks for a subscriber's email address. But you can add more fields if you want (such as asking for the subscriber's name).
The fields that are available (first name, last name, etc.) are determined by your list settings in MailChimp. If you want to edit them, you have to do so from your MailChimp account.
Click on a button and select your options, then click Add to form.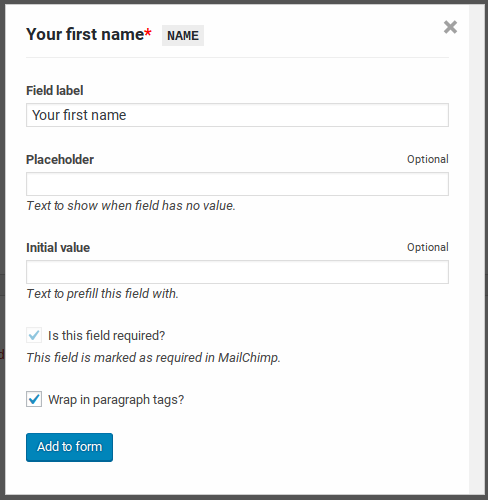 You'll see the HTML code for the field appear in your form code below.
You can also edit the HTML of your form. This is useful if you want to add your own CSS classes, etc.
Be sure to click the Save Changes button at the bottom when you're finished editing your form. Then you can use the shortcode displayed at the bottom in any post or page. (Or, see this tutorial on how to use shortcodes in your sidebars.)
The style of the form will depend on your theme's form styles. The MailChimp for WordPress plugin doesn't style the forms at all.
Free Add-on Plugins
There are a few free plugins available from the WordPress.org directory that add more features to the plugin:
MailChimp Top Bar: adds an opt-in form to the top of your WordPress site
MailChimp for WordPress Captcha: add a captcha to your opt-in form to prevent signups
MailChimp User Sync: automatically subscribes your WordPress site subscribers to your MailChimp list
MailChimp Activity: dashboard widget containing a bar-graph or line-graph showing your subscribers by day
MailChimp for WordPress Premium
There's also a premium version of the plugin available, called MailChimp for WordPress Premium. It includes better features like:
the ability to create more than 1 form
forms are submitted using AJAX (so the whole page doesn't reload when submitted)
eCommerce360 integration for WooCommerce: track and segment your visitors by purchases
style builder: create better looking forms with a visual editor
reporting: find out which sign-up methods & pages are performing best
email notifications: get an email whenever someone subscribes
Documentation and Support
The official site has documentation that goes over all the basics of setting up the plugin and using the different add-ons, as well as troubleshooting common issues.